Meals · Reminders · Companionship · 24/7 · Hygiene · Errands
A Fresh Approach to Home Health Care
At Above and Beyond, we offer flexible and innovative non-medical services. Our services are available 24 hours a day, 7 days a week. We offer a wide variety of services in personal assistance, from simply a few hours a day to constant care and companionship.
Medical Care Coordination
Our services provided are non-medical in nature. If you need additional medical services, we can coordinate your health plan to include medical service providers who meet our stringent guidelines for level of care and commitment to strong ethic values.
Personalized Services
Personal Assistant/Homemaker for Intellectual Disability, Autism, Cerebral Palsy, Epilepsy, Seniors, Post Surgery Individuals, Individuals Recovering from Illness or Injury, Alzheimer's Dementia, Memory Loss, Diabetes, Heart Disease, Cancer, Hospice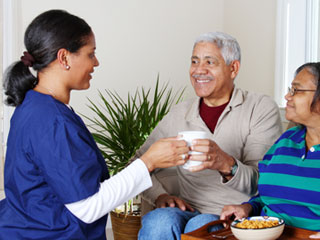 E-Client care is our secure web based tool allowing clients and families to monitor care scheduling, specific care details and a forum for feedback. All of this is available anywhere you have access to the Internet.
Clients with Above and Beyond can select to have a personal emergency response system installed in their home. All services are provided using one of the most reliable and trusted companies nationwide.
Client satisfaction and care is important to us! We gather feedback from clients, family members and friends to thoroughly examine successful aspects of our program and areas for improvement.
If for any reason a client is dissatisfied with our services or care plan, we pledge to resolve the issue in a timely manner with a kind and caring approach.
Our innovative CRM (Client Relationship Management) tool allows us to match caregivers with your loved ones based on; personality, interests, habits and more. This often provides a successful and smooth transition into in-home care. Often times, this is the basis for life-long friendships.
We provide your loved one with live in companionship who can assist with; shopping, errands, light housekeeping, hygiene assistance, meal preparation and respite care.